Here is a selection of local Jewish resources tailored especially for visitors, including college students and their parents visiting Washington University in Saint Louis. Caveat Emptor! We do not provide any endorsement (Kosher or otherwise), to any of the establishments listed here.
St. Louis Jewish History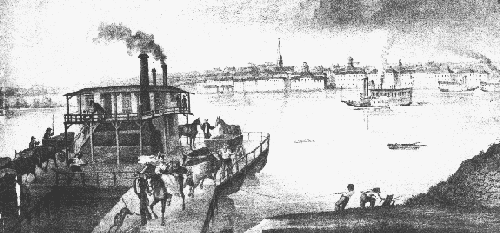 The first known Minyan in St. Louis occurred Rosh Hashanah, 5597 (September 12, 1836). A room was rented over Max's Grocery and Restaurant, on the corner of Second and Spruce Streets (now occupied by the St. Louis Arch grounds). The first synagogue was formed on October 3, 1841, as United Hebrew Congregation. The congregation was also known as the Polish Congregation and was initially created as Orthodox congregation.
Where to Sleep?
Many hotels seem to have discount for parents who are visiting their children, it pays to ask when you make your reservations.
There is a small hotel located on Washington University's Danforth campus, in the Charles F. Knight Executive Education Center, which is near the North West corner of the campus.
If you want to be close to the campus, you probably want to stay in Clayton area. Here are a several options located within the St. Louis Eruv. Search the web for others.
Ritz-Carlton
100 Carondolet Plaza
St. Louis, MO 63105
(800) 241-3333
(314) 863-6300
Le Méridien St. Louis Clayton
7730 Bonhomme Avenue
St. Louis, Missouri 63105
(314) 863-0400
Clayton Plaza Hotel
7750 Carondolet Avenue
Clayton, MO 63105
(314) 726-5400
Seven Gables Inn
26 N. Meramec Ave
Clayton, MO 63105
(314) 863-8400
(800) 433-6590
Hampton Inn and Suites
216 N. Meramec Ave
Clayton, MO 63105
(314) 727-0700
(The following hotels are proximate to campus but not within the St. Louis Eruv.)
Moonrise Hotel
6177 Delmar Blvd.
St. Louis, Missouri 63112
(314) 721-1111
(877) 872-1122
Cheshire Lodge
6300 Clayton Road
Saint Louis, Missouri 63117
(800) 325-7378
 Advertisement: Considering buying a house in St. Louis? Contact Aryeh Freylicher, realtor.
Where to Eat?
Students and campus visitors are able to purchase kosher-certified pre-packaged breakfast, lunch, and snack items at most campus eateries on WU's Danforth campus. During the prepared dinners are available in the Bear's Den area of the South Forty House on the South 40. St. Louis has a Kosher butcher and deli. In addition, many of the general supermarkets and specialty stores have reasonable Kosher selections. 
Simon Kohn's is located in Creve Couer, about a fifteen minute car ride from campus. They have a good selection of prepared foods for take-out or sit-in, a broad selection of fresh meats, St. Louis' best Kosher wine aisle, frozen goods and groceries. Simon Kohn's will also deliver to most areas, including Barnes-Jewish hospital, sometimes for a fee. They are also licensed by the USDA to ship meats inter-state.

Simon Kohn's Restaurant and Kosher Deli
10401 Old Olive
Creve Coeur, MO
(314) 569-0727
Kashruth Supervision: Vaad Hoeir of St. Louis
Gokul's Indian Restaurant
6101 Delmar Blvd.
St. Louis, MO 63112
Phone: (314) 721-1888
Website: www.gokulrestaurant.com
Kashruth Supervision: Vaad Hoeir of St. Louis
Dairy - Non Chalav Yisrael
Breadsmith of St. Louis
10031 Manchester Road
St. Louis, MO 63122
Phone: (314) 822-8200
Website: www.breadsmith.com/locations/stlouis.html
Kashruth Supervision: Vaad Hoeir of St. Louis
Elefant Pizza
Available on designated days.
Call (314) 502-7937 for information or to place an order.
Cholov Yisroel. Under the supervision of the Vaad Hoeir.
The supermarket with the largest Kosher section is a five minute ride west of campus. They also have pre-packed fresh meats, a limited selection of frozen products, and even get fresh Cholov Yisroel milk on a bi-weekly basis.
Schnucks - Ladue
8867 Ladue Road
St. Louis, MO 63124
(314) 725-7574
The nearest supermarket to campus is a 5 minute walk from the South 40 residential area, while it's Kosher selection is reasonable, it is not as broad as the Schucks market in Ladue.  
Schnucks - Richmond Heights
6600 Clayton Road
St. Louis, MO 63117
(314) 644-0510
Another store with a moderate Kosher section:
Dierbergs - Brentwood Pointe
8450 Eager Road
St. Louis, MO 63144
(314) 962-9009
Trader Joe's has an wide array of Kosher foods. They also maintain a list of Kosher products, ask for it!
Trader Joe's Brentwood
48 Brentwood Promenade Court
Brentwood, MO 63144
(314) 963-0253
Global Foods is an incredible cultural experience that, akin to a gastronomical United Nations! Global Foods has foods from a broad variety of countries, including an excellent selection of Kosher food products from Israel.
Global Foods Market
421 N Kirkwood Road
St. Louis, MO 63122
(314) 835-1112
Synagogues Proximate to Campus
Bais Abraham is the nearest Synagogue to Washington University. It's previous rabbi, Hyim Shafner, was a past rabbi of the St. Louis Hillel.
Cong. Beis Menachem - Chabad, is located on Delmar Blvd, near highway 170. It is a special Shul, with a welcoming philosophy and educational approach.
Jewish Organizational Resources in St. Louis
College students of course have access to the services of the St. Louis Hillel at Washington University, Chabad on Campus – Rohr Center for Jewish Life, and JGrads: The Jewish Graduate Student Association of St. Louis. The St. Louis Eruv Committee maintains the St. Louis community Eruv, which includes most of WU's Danforth campus.
St. Louis is the proud home to two other Chabad centers, the Chabad of Greater St. Louis, which provides Jewish outreach, Torah and Judaism for the entire family. There is also a Chabad center in Chesterfield.
St Louis has a Jewish Federation, which is located on the Millstone campus in the city of Creve Coeur, about 20 minutes from campus. Other Jewish organizations located at Millstone campus include, the Jewish Community Center ("JCC"), the Jewish Family and Children's Services, senior housing, and more. The newspaper of the Jewish community in St. Louis, the St. Louis Jewish Light makes its home in the area. The Vaad Hoeir of St. Louis provides Kosher services, and oversees the Mikvah is also located on the Millstone campus.
Community Mikvahs
St. Louis has one communal Mikvah, open Saturday through Thursday evenings. Appointments are required and are made by calling (314) 569-2770, extension 14. A Mikva for utensils ("Keli Mikva") is also on-site.
Sylvia Green Memorial Mikvah
4 Millstone Campus
St. Louis, MO 63146
Another Mikvah, is Used on Shabbos and the Yomim Tovim only. Appointments are required and are made by calling (314) 569-2770, extension 14.
Rebbetzin Nacha Rivkin and Rebbetzin Hinde Zuckerman Memorial Mikvah
8101 Delmar Blvd.,
University City, MO 63130
In the community of Chesterfield, there is a Mikvah which can be used daily. Appointments are required and are made by calling (314) 469-6160 or (314) 434-8634.
Tpheris Israel Chesterfield Mikvah
14550 Ladue Road
Chesterfield, MO 63017
Sites Worth Noting
The St. Louis Gateway Arch on the riverfront is probably the most recognizable St. Louis monument. The stainless steel parabola was built in 1965 and stands 630 feet tall. Guess what? It is hollow, and you can ride a tram to the top. It seems that this is more popular with tourists than with St. Louisans, but if you are visiting it's a good place to start.
Voted as one of the great sports towns in America, St. Louis is home to the Rams, the Blues, and of course, the St. Louis Cardinals. The "Cards" or "Redbirds" have recently built a new ballpark in downtown which boasts a great view of the skyline and the arch. The city and county are overrun with Cardinal loyalists, so it probably best to leave your Chicago Cubs gear in the closet.
Forest Park is located between Washington University's Medical School and Washington University's Danforth campus. Crafted from 1,371 acres of greenery, Forest Park is likely one of the most beautiful city parks in the nation. It includes the St. Louis Zoo, the St. Louis Art Museum, the St. Louis History Museum, The Muny amphitheatre and the Jewel Box greenhouse. Most of these attractions are free to visit… courtesy of a special property tax.
There is only one City Museum, and it is unlike any museum you have ever been in. Housed in the former International Shoe Company, the museum is an eclectic mixture of children's playground, funhouse, surrealistic pavilion, and architectural marvel made out of unique, re-purposed objects. The museum boasts features such as old chimneys, salvaged bridges, construction cranes, miles of tile, and even two abandoned airplanes!
St. Louis has a number of distilleries, none more famous than the Anheuser-Busch Brewery. They offer free tours of the operations followed by free beer. But is it Kosher? Well, according to the Chicago Rabbinical Council, all unflavored beer is Kosher.
For a more comprehensive listing of St. Louis Jewish information, you may want to visit www.JewishinStLouis.org and www.stljewishlight.com.